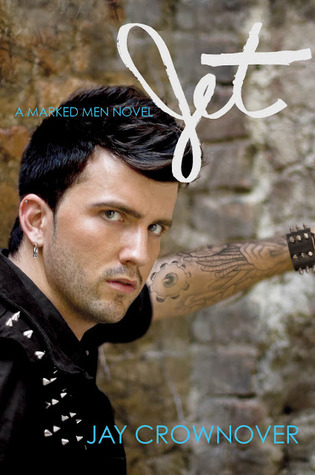 BOOK: Jet  by Jay Crownover
MY RATING FOR IT : 3 1/2 Stars
SYNOPSIS.
With his tight leather pants and a sharp edge that makes him dangerous, Jet Keller is every girl's rock and roll fantasy. But Ayden Cross is done walking on the wild side with bad boys. She doesn't want to give in to the heat she sees in Jet's dark, haunted eyes. She's afraid of getting burned from the sparks of their spontaneous combustion, even as his touch sets her on fire.
Jet can't resist the Southern Belle with mile-long legs in cowboy boots who defies his every expectation. Yet the closer he feels to Ayden, the less he seems to know her. While he's tempted to get under her skin and undo her in every way, he knows firsthand what happens to two people with very different ideas about relationships.
Will the blaze burn into an enduring love. . . or will it consume their dreams and turn them to ashes?
MY THOUGHTS ABOUT IT 
Well, this is the second book in the Marked men series, and to tell you the absolute truth I was kind of iffy about it. The thing is that I read some not so favorable reviews and was kind of biased about this one.
I was so iffy about it that I actually bought the audio book , thinking that maybe that way I may breeze through it more easily, which actually was ab big plus because I was able to connect a little more with the characters this way.
Eventually the time came to read it a I actually realized that it was a good book, not a great one (I mean it can't compare to the first one Rule, because that one was great!!) but it was better than I thought which I'm so thankful about!! I really didn't want to feel put off about this series.
Jet is the ultimate rocker , sex god, with the tattoos and piercing to prove it, he is currently living in a house with two girl (Cora from the tattoo parlor and Ayden who is Shaw's friend from the first book) Ayden feel an instant attraction toward Jet and he feel it too, but he thinks she is too much of a nice girl for him to use and throw away like so many other girls, but the thing is he doesn't know the real Ayden and the wild side that she is trying so hard to keep hidden.  She has this very shady past that she doesn't want to live again so she is convinced that Jet is exactly the kind of guy that she shouldn't be dating so she backs away and they become this kind of friend who lust after each other but never act on it.
Security would always win in any game where love or any other emotion was a consideration, and that was just the way it had to be.
Ayden is set on a straight and narrow path for her life, she wants a good clean boyfriend, with a steady income and a good career, and Jet is the exact opposite of that, Right!? He is the dirty Rocker with no prospect and Hot as Sin!!
Jet , loves his music , he lives for it , it gives him the outlet for all the things that don't work in his no so perfect life, and he takes very seriously his work , he lives and breathes it. But as always he has a bit of baggage and in this case is in the form of a douchebag father and a abused mother
'I would rather be broke and do a job I love then wealthy working a nine-to-five any day.'
But eventually and after fighting it for a long time  they do get together and it's scorching hot , and most likely addictive for them , which is s problem because she can't seem to see any future with they as a couple beyond a few night of wild hot steamy sex ( Dayummmmm!!!!!)
On the other hand Jet is kind of feeling thing which is scary for him, and very confusing for her so…
Well I won't give more away because otherwise I'll take all the fun , I just say that as much as I wanted to love this character and I did a little , I couldn't LOOOOVE LOOOVE THEM the way I loved Shaw and Rule , but I think this story is worth the while that it takes to read it , so take a chance and tell me what you think about it , maybe you'll think I'm nutty and it's a  great book or maybe you'll think is gross and not readable , to each his own right?