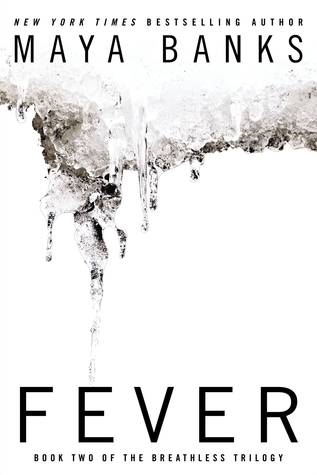 BOOK: Fever (Breathless #2 )by Maya Banks
MY RATING: 4 Stars
SYNOPSIS:
Jace, Ash, and Gabe: three of the wealthiest, most powerful men in the country. They're accustomed to getting anything they want. Anything at all. For Jace, it's a woman whose allure takes him completely by surprise…
Jace Crestwell, Ash McIntyre, and Gabe Hamilton have been best friends and successful business partners for years. They're powerful, they're imposing, they're irresistibly sexy, and Jace and Ash share everything—including their women.
When they meet Bethany, Jace begins to feel things he's never experienced before: jealousy, and a powerful obsession that threatens him, overwhelms him—and excites him beyond control.
Jace isn't sharing Bethany—with anyone. He's determined to be the only man in her life, and it's jeopardizing a lifelong friendship with Ash. Bethany will be his and his alone. Even if it means turning his back on his best friend.
MY THOUGTHS ABOUT IT
This is the second book in a trilogy by Maya Banks, I've read some of her other books and a have to say she never disappoints. I decides to review the second book because  to me Jace was my favorite from the 3 books , he was the sexiest,strongest most alpha , dominant and the most passionate of them all.
The first book with Gabe was great , I loved him ,and Ash's story was not so bad all doe it was not that much believable to me and feel kind of flat.
I realize that this story has many holes in it , and th subject of the girl being homeless is very poorly developed , but the swooniness of the story and the copious amount of steam that made my girly part tingle , made the book  a great one for me.
Jace , Gabe and Ash, are 3 friends , and succesful business partners, Gabe is already engaged with Jace's sister (book 1) and he feel something is missing, and there enters Bethany the girl who is working as a server at the engagement party. Jace feel drawn to her ,and as is his M.O. he propositions her , the thing is he always shares his women with Ash , and this time he is not feeling the sharing mood.
She decides to take the offer rather than spending the night at the streets, but after their shared threesome, she just wants to get away before it's too late.
I must say that the sex scenes where WOW!! very illustrative to say the least .
Jace is very sorry that he agree to the threesome and wants her for himself, but he has to find her first , and there is when he realizes the situation she is in…because she is homeless.
"Most of all, I want you to know without a doubt that I've got your back. And your front. And your sides. I've got all of you and I'm not letting go."
From that point on he is determines to protect her even from her self , and the alpha male protective dominant appears. ut he desperately loves her.
i loves how he is no afraid to show her his soft side.he goes all in with her.
You have more power, more control than you could possibly imagine. My heart is in your hands. That's not bullshit. I'm not saying stuff I think you want to hear in order to manipulate you. I can't be any more honest than this. I'm yours, baby. I'm putting it out there. My heart, my soul, it all belongs to you."
In this book Jace actually says that he wants her to be his submissive , un like Gabe who was controlling but never ask for an actual Sub/Dom relationship.
"You hold your head up. You submitting to me doesn't mean you're anything less…the very last thing I want is for you to be some mindless puppet."
Bethany is a very frail girl , that has had a rough life and can't belive he could actually love her, so her self esteem is very thin.
"I don't want to disappoint you. I don't want to let you down. And I don't want to embarrass you in front of the people you love."
it was a very intense read full of swoon and a lot of very inventive sex scenes , some of them quite funny.but the thing is this is kind os pretty woman sort of story (without the prostitute thing) where a very handsome , strong , rich man falls madly in love with the poor down on her luck girl, add a lost of steam some menage scenes , a few heals  heels , and you got yourselves a winner!!!